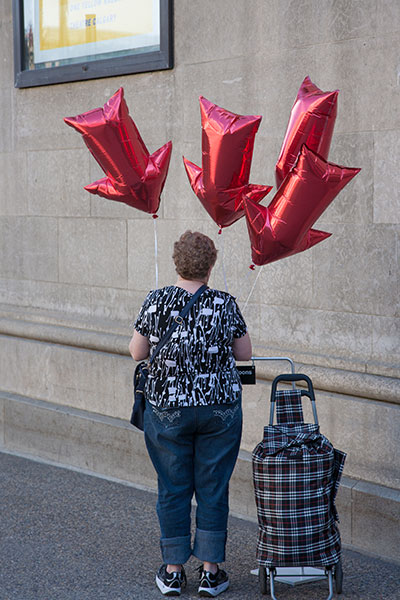 How we occupy cities is perhaps defined as much by an event as by the character of the physical space itself. Architect Aldo Van Eyck noted in an early issue of the Dutch magazine Forum, "Make places out of everyone; a lot of places out of each house and each city." Inspired by the significance of the event, You are here is equally grounded in the thinking of philosopher Walter Benjamin in attending to the actions of "the collective" that occur between buildings and walls.
From this footing, You are here Balloons is a slice-of-time experiment into the significance of "being" in place. Conceived with a dash of humor, the event initially took place during the Calgary Biennial and was a collection of hundreds of hand-made helium-filled balloons in the shape of a red arrow that unveil the means and activity of the public realm. The balloons were handed out to the public over the course of a weekend. Individuals took the arrow balloons with them on their journey throughout the city. A balloon might end up entangled in a tree. A child might hold onto the balloon over the course of days. Some balloons were let free, others were treasured and brought indoors.
Allowing the citizen to become performer, You are here Balloon calls attention to everyday movement and exchange. The ubiquitous red arrow − a marker of place and often used to designate "you are here" on a map − is altered to instead mark the people rather than the place.
Through a hybridized expression of contemporary public art that fuses art with urban design, a common exchange in the city is revealed as a theatre of the everyday. The arrows become indicators of presence in the city. The participatory nature of the work unveils a new layer of spaces as they are used. It highlights the seemingly mundane act of moving through the city by drawing attention to both collective and individual, and marks the time and space that become activated with movement.
You are here Balloons was subsequently installed in Sheffield (UK) in December 2015, to coincide with the We Are Here symposium. For this event, 3000 balloons were produced industrially and placed in the city centre, at three different locations, for 3 days.
We Are Here was a symposium hosted by the University of Sheffield School of Architecture and curator Jane Anderson. We explored the role of public art in the public realm along with the Office for Subversive Architecture and Leo Fitzmaurice among others.
Calgary Biennial
Sheffield School of Architecture
Models for Practice